Sun City Homes & Neighborhoods
In increasing numbers, America-s 78 million baby boomers and active adults, from sports enthusiasts to culture hounds to beach lovers, are discovering the Carolinas.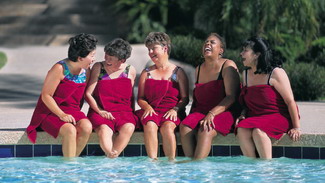 Several new and existing communities are taking advantage of the wave of retirees and soon-to-be retirees from across the country by offering villas, single-family homes and all the amenities the 55+ crowd demands. "We chose Sun City Carolina Lakes by Del Webb because of the green," says Ed Burton, a 79-year-old retired IBM program manager and a Florida native now living in Indian Land, South Carolina. "We love Del Webb communities because of the social aspects. You feel welcome every time you enter the gates. We are greeted with waterfalls and tree-lined streets." Trees are important to Ed and his wife, Kathy, who previously lived in a Midwest retirement community that was forced to restrict water use for flowers and plants.
Carolina Lakes is located in South Carolina, just across the state line from the Charlotte, North Carolina, metropolitan area.
"People come from all over," comments Carolina Lakes Lifestyle Director Brooke Moore. "It-s all about lifestyle. We will have 4,000 homes, including singlefamily homes, carriage houses and villas. Six hundred homes have already sold."
People choose to live in Carolina Lakes and similar communities such as Sun City Hilton Head by Pulte Homes because of the lifestyle, according to Elizabeth Cain, marketing manager for Pulte-s South Carolina Coastal Division.
"People purchase their villas because lawn and exterior structure maintenance are covered by homeowners association fees, which relieves one of the largest burdens on retired persons," she says. "A lot of people want freedom for social activities or simply a vacation home to see family. It makes life easy for them."
You must be at least 55 to live in Del Webb communities such as Sun City Carolina Lakes and Carolina Preserve in Cary, North Carolina, a rule that encourages residents to get involved in their neighborhoods. Burton, for example, brags about his brand new shiny black golf cart and his plans to "chrome it up." His new ride will certainly be the talk of the community, where golf carts are the preferred mode of transportation.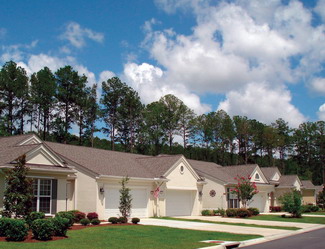 Sun City Hilton Head, in Bluffton, South Carolina, is likewise popular with the over-50 group. Cain boasts that "If you have an interest, there probably is a group for it here."
The Carolina Lakes community anticipates a surge in villa purchases with new construction, which will begin in October 2006, be completed in January 2007 and provide options from 1,200 to 1,900 square feet.
One reason retirement communities are emerging all over the Carolinas is that many people want to avoid Florida-s hurricanes, the drought-induced fires of the West and Midwest and the horde of snowbirds who have invaded Florida from the Northeast. Tom Lufkin of Coldwell Banker Coastal Properties in Summerville, South Carolina, affectionately refers to retirees in the Carolinas as "halfbacks— retired people who originally moved south to Florida and then moved halfway back—to the Carolinas."
Because the cost of living is generally lower in South Carolina and North Carolina than in other parts of the country, condos and villas are affordable for most retirees. "For most people, it costs less to live here than where they came from," says Lufkin.