Print Local Weather Golf Courses
Water`s Edge, Folly Beach, SC
The name says it all. Water-s Edge. Step out on the porch of your townhouse and find yourself on the edge of the Folly River, overlooking the marsh. Inhale and you-ll catch a hint of salt air from also being just a few blocks from the Atlantic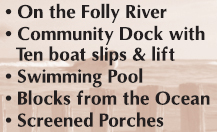 Ocean and historic Folly Beach.

The newly constructed luxury Charleston-style houses are enticing to those who want to enjoy the atmosphere of living on Folly Beach while still enjoying the cultural pleasures of Charleston."The community was designed to allow owners to benefit from being close to Charleston while enjoying the natural surroundings of the marsh and the river," says Certified Real Estate Consultant Dave Landry of Dunes Properties.

Developed by the same creators of nearby Turtle Bay townhomes, Water-s Edge features luxurious duplexes with various spacious floor plans. While the houses appear to be separate buildings, they are actually duplexes. There are 46 houses, with each featuring 1,550 square feet of living space. The three-bedroom, three-bath units include porches off both the living room and master bedroom. Special attention to detail includes ten-foot ceilings downstairs and nine-foot ceilings upstairs, ith crown molding and chair railing.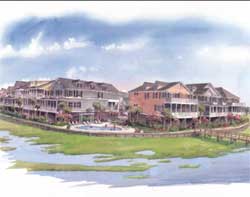 Bedrooms are carpeted, while the great rooms feature hardwood floors. The kitchen is specifically designed for entertaining and have granite countertops throughout. Each home also has its own garage. Just the setting would be reason enough for many to live here, and the amenities are designed accordingly. Ten boat slips allow sailors access to coastal waters. If you prefer just watching the vessels, you can relax and enjoy the Water-s Edge-s riverside pool area.
Of course, another obvious benefit is that the development is located in the community of Folly Beach. The relaxed lifestyle only increases the appeal of resort style living in these townhomes that are perfect for both those seeking a primary or secondary home.