Print Local Weather Golf Courses
About Myrtle Beach
Tuscany: Myrtle Beach, South Carolina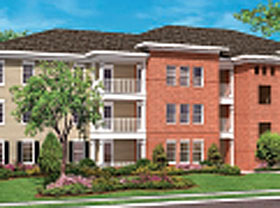 WELCOME TO THE FUTURE AT Tuscany, Myrtle Beach-s newest community.
Constructed by D.R. Horton, the nation-s number one home builder, Tuscany promises to be much more than the typical town home community. It-s the residence you would design for yourself, with comfort and technology in mind.
You might expect to pay top dollar for a brand-new home located in one of the most popular vacation destinations on the East Coast, but you-ll be surprised to find that luxury living has an affordable price tag at Tuscany.
The Lucca floor plan ranges from 1,800 to 2,000 square feet, depending on whether you opt for two, three or four bedrooms, and includes a one- or two-car garage and covered patio. Some of the little touches that set these town homes apart include crown molding and chair rail in the foyer and dining areas, your choice of hardwood or tile in the foyer and ceiling fans in the family room and master bedroom. Whirlpool appliances complete the package. Prices for the Lucca start at $223,900.
If the Lucca doesn-t appeal to you, take a look at the Talamone villas. Slightly smaller, at 1,400 to 1,600 square feet, they offer three bedrooms and two baths and either a private lanai or balcony. As with the Lucca, Whirlpool appliances are standard. Prices for the Talamone start at $189,900.
Both the Lucca and Talamone homes include maintained lawns as well as first class amenities such as an adult pool, lazy river, tennis courts, fitness center and theater room.
Whether you choose the town home or the villa, technology is the ultimate extra. Structured wiring, usually found only in homes that cost much more, is built in, providing complete integration and networking of all technology. That means high-speed Internet access, unlimited local and U.S. long-distance digital telephone service with all your favorite features, more than 200 digital cable channels and DVR capability. The package includes a dedicated community Web site and 24/7 monitored security. Every bit of this technology is standard—even the on-site "technology concierge."
Because Tuscany is built by D.R. Horton, you can be certain your home is constructed to the highest standards. The company is dedicated to customer satisfaction and to making home buying a pleasurable experience. D.R. Horton offers upscale living at affordable prices.
Find your future at Tuscany.
For information about Tuscany: Myrtle Beach, South Carolina and the surrounding area contact DR Horton of DR Horton
4037 Belle Terre Blvd.
Myrtle Beach, SC
Phone: (843) 903-7230
Visit my site: http://www.drhorton.com