Print Local Weather Golf Courses
Locator Map
Regency Square Condos: North Charleston, SC
Condo conversions are hot in the Charleston area. If you want to know what-s driving this trend, just ask Realtor John Vance.
"The condo conversion craze is directly linked to the high cost of real estate in the tri-county area," says Vance, a partner in Premier Properties of Charleston. "A starter home in Berkeley and Dorchester counties costs $130,000 and up. People can purchase a condo conversion for around half that price, plus have nice amenities without the labor of upkeep. And they-re building equity without being a slave to their mortgages."
According to Vance, Premier Properties has spearheaded four condo conversions in just six months. "They have been a success at every location," he says.
The company-s first condo conversion was the 132-unit Rivers Point Row on James Island, which sold out in six months. Two other West Ashley conversions are in progress: one at Melrose, the other at Wildwood. "We-re selling between 20 and 30 units per months at both locations," Vance says.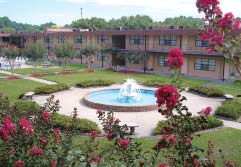 The company-s most recent conversion endeavor is Regency Square located at 6601 Dorchester Road in North Charleston. With 20 of the complex-s 110 units pre-sold, Premier Properties is expecting similar results with the new project.
"Regency Square is unique in that there have only been two complexes like it built in the United States, one here and the other in North Carolina," says Vance. "It was designed so every unit looks into the courtyard where there-s a nice pool, a small practice putting green, picnic tables with grills and badminton courts. Residents can enjoy the pool and amenities without any traffic noise."
The Regency Square buildings, which were constructed in 1974, are low-maintenance brick and vinyl. Each unit, which includes one bedroom and bathroom, is about 660 square feet. Both renovated and unrenovated condos are available. The unrenovated units start at $69,900, while the totally refurbished units start at $78,900.
"When people see a refurbished unit, they know they won-t have any maintenance issues because everything is brand new," says Vance. "These units are a great value for the price."
Newly renovated units include a new just-abouteverything … such as a stove, carpet and vinyl throughout, water heater, air conditioning unit, ceiling fans and even the wall plugs. "We renovate the bathroom and even re-do the kitchen cabinets," he says.
The property-s central location is one of its most appealing features. "Residents are literally 15 minutes from downtown Charleston and five minutes from the airport," says Vance. "This location appeals to snowbirds, who choose to live in this area during the harsh winters in places like Connecticut and Maryland, two states that are generating a lot of calls about Regency Square."
Vance says that Regency Square is also attracting first-time homebuyers, who are opting for a manageable mortgage payment instead of rent.
Vance has lived in the Charleston area for more than a decade. His knowledge of the area-s real estate is in-depth and comprehensive. A certified new home specialist and accredited buyer representative, Vance sells homes ranging in price from about $50,000 to over $2 million and works in locations such as Mount Pleasant, James Island, Summerville, Moncks Corner and Goose Creek. His office is located at 10150 Dorchester Road in Summerville.