Print Local Weather Golf Courses
Paradise Grande
WOULD YOU LIKE TO WAKE UP each morning, stroll to your own private balcony and marvel at the beauty of a magnificent sunrise over a tranquil ocean? If the perfect symmetry among sand, surf and sun makes your spirits soar, Paradise Grande in Myrtle Beach could be an ideal place for you to put down roots.
Paradise Grande—located on 77th Avenue North in a neighborhood popular with vacationers and locals alike—will offer more than simply superb scenery. The oceanfront community includes a mixture of opulent mansions and quaint beach bungalows, all sheltered by a canopy of ancient live oaks, and restaurants, shops, grocery stores, drugstores and medical facilities all are within a half-mile. Oceanfront houses here sell for around $4 million and nearby oceanfront condos top out at $3 million, but you can own a condominium at Paradise Grande for as little as $239,900.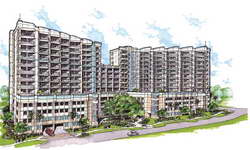 Paradise Grande, which is now pre-selling, will feature a striking architectural design, with twin towers surrounding a large existing oak tree. Curved balconies and other architectural flourishes will be enhanced by lush landscaping surrounding the building, and Paradise Grande will offer amenities owners and vacationers have come to expect in a first-class resort: a lazy river, indoor and outdoor pools, whirlpools, kiddie pools, an exercise room, a rooftop sundeck, on-site parking and glass-enclosed air conditioned corridors. One, two and three-bedroom floor plans are available, with prices ranging from $239,900 to more than $700,000.
All residences will have large balconies, washers and dryers, full kitchens with stainless steel appliances, ceramic-tiled foyers, baths and kitchens, and granite kitchen countertops. The condominiums are being sold fully furnished but may be purchased unfurnished at a reduced price.
Although its location, amenity package and large floor plans make Paradise Grande condominiums ideal as primary residences or second homes, they also promise to be excellent rental properties. Vacationers who are lucky enough to discover this popular section of the Grand Strand return year after year, and the limited number of rental properties keeps occupancy rates in the area high.
As is the case with almost all real estate, Paradise Grande-s location is the key to its value. The five-mile oceanfront stretch from 29th Avenue North to the Dunes Club on the north end of Myrtle Beach is well known by local residents and is a hidden treasure to many visitors. In this 50-year-old neighborhood, the large, stately beach houses built decades ago have been joined in recent years by lavish mansions. The tightly zoned area offers few options for new hotels and condominiums, making it unlikely that a building similar to Paradise Grande will emerge in the near future.
For those who care to take advantage of all the Grand Strand has to offer, Highway 17—with its shops and some of Myrtle Beach-s finest restaurants— is only two blocks to the east. The Grand Strand Regional Medical Center is five blocks away on 82nd Avenue, and the appropriately named "Restaurant Row" and the Tangers Outlet Mall both are less than three miles away. Two huge entertainment complexes, Broadway at the Beach and Barefoot Landing, as well as the downtown Pavilion area, are within a 15-minute drive. You can reach all of the Grand Strand, featuring more than 100 golf courses, 2,000 restaurants, spectacular live shows, amusement parks, water parks, shopping, fishing, boating, nightlife, sporting events, art shows, concerts, festivals, worldclass sculpture gardens, quaint fishing villages and 60 miles of beautiful beaches, within 30 minutes.
Paradise Grande is being marketed by Advantage Real Estate, Inc., which specializes in resort property in the Myrtle Beach area. For more information, call (800) 872-4488 or visit www.paradisegrandesales.com