Print Local Weather Golf Courses
About Isle of Palms
The Palms Condo-Hotel: A New Concept
By George Olney
The Palms Hotel is a perfect example of an exciting new idea that has reached the Lowcountry real estate market.
The hotel, located on the Isle of Palms and currently a part of the Holiday Inn chain, is in the process of converting to a condo-hotel. Investors will own all the rooms, singly or in groups, and the facility will be run by a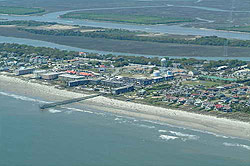 cooperative, similar to a typical condominium building. Guests who rent the rooms will see no apparent difference between a condo-hotel and a traditional hotel.
Closings are currently being completed on individual units. By July, the transition between Holiday Inn and an investor cooperative will be complete, and The Palms will be reborn.
Elliott Hutson of Prudential Carolina Real Estate, the agent exclusively listing sales for the Palms, says the soon-to-be condo-hotel is ďa top investment opportunity.Ē He has the facts and figures to back up this statement. Elliott has tracked property appreciation on the Isle of Palms and reports a growth of more than 200 percent in value over the last 10 years. Since The Palms, one of two hotels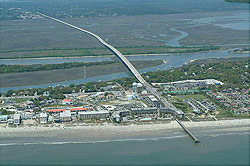 on the island, sits on beachfront property, its value has increased by an even greater amount in the past decade.
Investors will pay from $295,000 to $399,000 for a room, depending on its size and position within the condohotel. Sixty-two percent of the monthly room rent goes to the owner, while the management group keeps 38 percent to cover the expenses associated with marketing, operating the front desk and other services normally provided by a hotel. An extensive marketing program is already in place.
Twenty of the 68 rooms at the Palms have been pre-sold, pending transfer of ownership. Current plans call for Dana Barton, manager of The Palms for the past five years, to remain in that position.
Those who buy the rooms will receive more than an investment. They will be able to enjoy a beach vacation for the minor cost of housekeeping and a $5 transaction fee because the rooms will be reserved for their use a set number of days during the year. Owners also will be able to use their rooms on days when they arenít rented.