Print Local Weather Golf Courses
About Myrtle Beach
Penthouses: North Beach Plantation: Myrtle Beach, South Carolina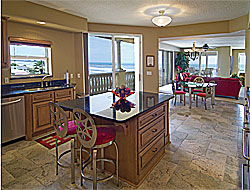 IF YOU ARE INTERESTED in luxury living in Myrtle Beach, South Carolina, and have a little patience, North Beach Plantation is well worth the wait. The first phase of this ambitious 60-acre project is slated for completion in late 2008 or early 2009. Currently under construction, the twin 18-story towers, Indigo and Jasmine, are bridged by dual arches, and the design is Southern coastal architecture reminiscent of historic Charleston and Savannah. The Plantation House will contain a fitness center, conference room and spa.
The largest of the condominiums, the Georgetown, has five bedrooms and five baths, a media room and a price tag of $2 million. The Charleston, also grand in scale, features five bedrooms, four-and-a-half baths and two balconies. All residences come with panoramic ocean-front views, 9-foot tray ceilings, classic double-door entry, gourmet kitchens, granite kitchen and bath counter tops, large walk-in closets, marble floors, gas fireplaces and architectural columns.
Amy Miller of Scalise Group says, "Amenities will set North Beach Plantation apart. It is unlike anything currently on the Grand Strand."
North Beach Plantation will overlook the Atlantic Ocean and a two-and-a-half-acre Caribbean water park with outdoor fountains, swimming pools, spas, a lazy river and a bar.
For information about Penthouses: North Beach Plantation: Myrtle Beach, South Carolina and the surrounding area contact Bill Macchio of Media Services
PO Box 22617
Charleston, SC 29413
Phone: 843-345-7012
Visit my site: http://www.mediaservices1.com
Email Me: bill.macchio@gmail.com