Print Local Weather Golf Courses Myrtle Beach Resort Condos
Myrtle Beach Resort - where your next vacation begins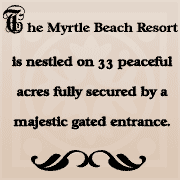 If your vacation calls for a variety of activities while being removed from the congestion that vacation destinations inevitably attract, Myrtle Beach Resort Vacation Services is sure to meet your expectations. This popular Myrtle Beach destination caters to those who desire a beautiful beachfront resort that offers plenty of amenities and that is close to the renown Grand Strand, but secure and remote enough to offer continuous peace of mind.
The comfort and convenience the resort offers begins even before you arrive through the gates of this 36 peaceful, wooded acre haven. As Phil Cox, owner of Myrtle Beach Vacation Services,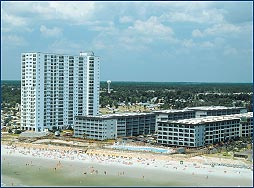 proudly states, 'We offer an inclusive website and on-line reservations, which help guests plan their vacation with speed and ease.'
This attention to detail doesn't stop with the planning stage. Knowing that the fully furnished condos are on-sight rental properties, you appreciate not having to travel to different locations to sign papers or retrieve keys. Ultimately, when you arrive at the Myrtle Beach Resort you can be assured your vacation has already begun.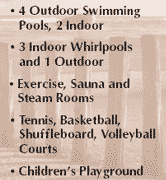 From the time you settle into your condo, the resort continues to offer innumerable activities. If tennis or swimming attract you, there are six tennis courts and six pools from which to choose, as well as nearly 700 feet of white sand beach and crystal blue waters in which to indulge. After practicing your putting on one of the greens or enjoying basketball and volleyball, our health spas, which are outfitted with steam rooms, saunas, and Jacuzzis, will surely help you unwind.
Whether you're a snowbird who wants activities onsite and nearby attractions, or a parent who wants to enjoy vacationing with your children during their spring and summer school breaks, Myrtle Beach Resort Vacation Services will undoubtedly satisfy your notion of the ideal vacation.