Print Local Weather Golf Courses
About Myrtle Beach
Marcliffe West: Myrtle Beach, South Carolina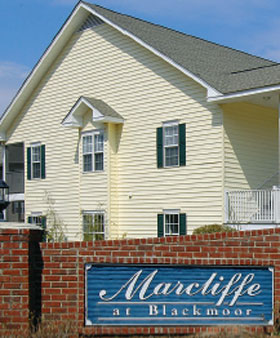 LOOKING TO GET AWAY FROM the hustle and bustle of city life but still enjoy all of its conveniences? Then look no further than Marcliffe West, the second of two condominium developments by Loren Almond of Almond Quality Builders.
Because of robust sales, Marcliffe West, situated on 64 acres just outside the Myrtle Beach area, has begun its third phase of construction, says Keith Roman, owner and broker-in-charge of Weichart Seaside Properties. Weichart is handling sales of Marcliffe West and its sister development, Marcliffe at Blackmoor, which is located on an 18-hole golf course just across the street.
The laid-back, family oriented community is close to the beach and shopping and comes with several amenities that growing families are looking for—a pool and clubhouse, as well as landscaping services, pest control, water and sewer, basic cable, among others that are included in the monthly regime fees.
Marcliffe West features three models to choose from—Palmetto, Sweetgrass and Longwood. All are onestory, three-bedroom, two-bath units designed with an open floor plan.
All of the units have screened porches and come with several standard upgrades, such as 9-foot ceilings, 42-inch maple kitchen cabinets, ceramic tile in the kitchen and bath areas, ceiling fans and crown molding.
Longwood is the largest of the three at 2,300 square feet and features a den/study/office and a two-car garage. Prices range from $269,000 to $289,000. In addition, the Longwood features architectural upgrades such as hardwood floors in the dining area and columns. Customers also have the option of choosing other upgrades, such as solid-surface counter tops. The Longwood is available as a "paired branch," similar to a duplex, Roman says.
Palmetto is 1,400 square feet and Sweetgrass is 1,500 square feet. These models range in price from $179,000 to $199,000 and are constructed in a villa style, with four units to each two-story building.
Weichart also is in the process of wrapping up the final phase of sales and construction on Marcliffe at Blackmoor, the other condominium project that sits on 10 acres along Blackmoor Golf Course. These units are 1,300 square feet and start at $189,000.
For more information on either of the properties, please call Weichart Seaside Properties at (843) 215-5699, or visit www.MarcliffeOfMyrtleBeach.com to view floor plans.