One Vendue Range: Charleston, SC
The heart of downtown Charleston offers a plethora of fine dining establishments, artistic venues, cultural events and historical attractions. Add in outstanding Lowcountry golf courses, a temperate climate and the area's overall quality of life, and it's easy to see why Dave and Laura Wallace chose Charleston for their retirement home. After living in Tokyo for five years, the Wallaces spent three years at Kiawah before moving downtown to One Vendue Range in February 2003.
"We liked Kiawah because of the golf and the beach, but this location is fantastic. We can walk to all our favorite restaurants and the different art galleries," Dave said.
One Vendue Range was the brainchild of Charleston resident Wally Seinsheimer, owner of Dolphin Architects & Builders, and Harry Frampton and Ross Bowker of East West Partners of Beaver Creek, Colo. Designed by architect Chris Schmitt of Schmitt Sampson Walker, One Vendue Range features four primarily brick buildings with coast stone and stucco accents, two private garden verandas and a public art gallery displaying the works of regional and local artists. One Vendue Range combines historical charm with 21st century conveniences, while respecting and enhancing the entire Waterfront Park area.
"Even though One Vendue Range is new construction, it has an old look which we really like. We also believe it is the best quality condo development in the city," Dave commented.
Dave's career as a General Electric executive gave the Wallaces the opportunity to live and travel all over the world, and they have acquired an extensive collection of rare artwork and exceptional antiques now displayed prominently throughout their 3,400-square-foot condominium.
The spacious entrance foyer, with soaring 11-foot ceilings, is home to a circa 17th century Japanese screen titled "Tales of Genji," along with an 1815 classical sofa originally handcrafted in Baltimore.
Entering the beautifully appointed living room through an arched entryway, you will find custom built-ins that are fabric-backed and indirectly lighted to showcase a collection of Imari – the world-famous Japanese porcelain named for the port town from which it was shipped abroad by the Dutch in the 17th and 18th centuries – a pair of Ming Dynasty tomb stoneware figures and, the Wallaces' most prized possession, a Bodhisattva, a 1,500-year-old stone head of a Buddhist saint from the Tang Dynasty.
"Laura and I decided to use a neutral background to emphasize and highlight these spectacular antiques," said Judy Bowers, owner of Judy Bowers Interiors LLC.
Blending perfectly with the two brocade pale crème reading chairs and matching sofa, Lee Jofa silk fabric frames the wall of windows. The living room also has two unique Chinese folding travel chairs, a Summer Hill wooden coffee table and Baker Square accent tables.
The same Lee Jofa silk is found in the dining room, providing a pleasing sense of continuity.
"We didn't want color or fabric to overwhelm the spectacular view. The approach was to keep it simple," Bowers commented.
The study is a work of art. All the interior trim, along with the walls, beamed ceiling, windows and French doors, are clad in knotty pine, painstakingly distressed, giving it an antiqued look and feel. Another antique Japanese screen, circa 1680, hangs over the leather sofa. Titled "Castles on the Tokaido Road," it is believed to have had great military significance to the Japanese warlords of this period. French doors lead to a spacious private balcony, where Laura and Dave relax and enjoy panoramic views of Waterfront Park and the Charleston Harbor, including Fort Sumter and the USS Yorktown.
"We enjoy watching the sailboats and cruise ships coming in and out of the harbor," Laura said. To enhance traffic flow, the spacious kitchen was designed to be accessible from the front hallway, the dining/living/study area and the keeping/guest room.
"The Wallaces knew what they wanted. I had worked with Laura on the Kiawah home," said Linda McLain of Signature Kitchens and Baths of Charleston, Inc. The center island is pine with a glaze white finish, while the rest of the kitchen was done in maple with the same finish, giving the room a complementing yet individual look. The floors in the kitchen as well as the rest of the home are Honduran distressed Akote pine with a honey chestnut finish. Oriental rugs in the main living areas and bedroom suites had to be brought in with a forklift because they were too large to fit in the service elevator. Customized double archways lead from the kitchen to the keeping room, which also serves as a second guest room when the Wallaces' two children and five grandchildren visit.
"The double arches give this room a real feeling of depth," Bowers said.
The room is warm and inviting, with upholstered furniture in rusts, browns and crèmes. A tall case clock from Winchester, Va., circa 1790, fits perfectly with the antique chest-on-chest purchased at an estate sale in downtown Charleston and the beautiful hand-painted Habersham armoire.
In the hallway leading to the main guest room and master suite is a mid-to-late-17th-century Japanese panel screen painted in the Rimpa style, specifically that of Kitagawa Sosetsu.
The guest suite features Brunswick Fils drapes and accent fabrics, again done to complement the Wallaces' magnificent collection of antiques. The hall laundry room features pocket doors and contains the mechanics for the central vacuum system.
"I had one in the Kiawah home and just loved it," Laura said.
Entering the master suite, your eyes are drawn to the fabulous Amy Howard canopy bed.
"We saw it in a magazine and just fell in love with it," Laura pointed out. "But it was a bit of a challenge getting it up three stories because of its size."
The tall case clock is an English antique, circa 1800.
The master bath has a Habersham vanity, a stand-alone oversized soaker tub positioned at an angle to take advantage of the harbor view and, in the doorless master shower, a handcrafted tile design by Burnsville, N.C., artist Tzadi Turow.
Add in a private parking garage, full-service concierge, meticulously-maintained corridors and lobbies and a magnificent rooftop garden that is perfect for intimate gatherings, and One Vendue Range truly has it all. Laura and Dave Wallace are proud to call it home.
Something Special...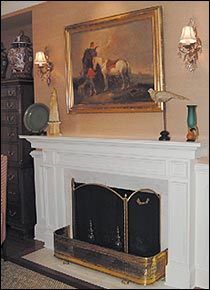 Long before its four buildings began to rise to their majestic perch above Charleston Harbor, Wally Seinsheimer knew there would be something special about One Vendue Range.
"That's the primo cite in all of Charleston," said Seinsheimer, whose company, Dolphin Builders & Architects of Johns Island, customized the condominiums at One Vendue Range once the buildings were raised by Trident Construction. "Where else do you get a Charleston Harbor view with a park in your front yard, all within walking distance of all the various ambiences the city has to offer? I don't think there's any other place like it."
Dolphin has been building upscale homes in the Charleston area, mostly on the Isle of Palms, Sullivans Island, Kiawah, Seabrook, Wadmalaw Island and Johns Island, since 1990. Seinsheimer has been in the construction business for nearly 45 years, and his work can be found in at least nine states, stretching from South Carolina to New York to Oklahoma.
When the city of Charleston sought to develop its property at the corner of Vendue Range and Prioleau Street, overlooking Waterfront Park, the team of Dolphin Builders & Architects, East West Partners, Trident Construction, Crescent Real Estate Equities and architect Chris Schmitt of Schmitt Sampson Walker outbid nine other potential development partners. Construction got underway in January 2001.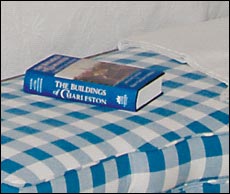 Seinsheimer explained that after Trident did its part, Dolphin worked with the people who purchased condominiums at One Vendue Range to personalize each home to fit the individual needs of each homeowner.
"We gave our purchasers the option of making changes," Seinsheimer said. "It took a residential contractor to do that. That's why we had two general contractors on this job – Dolphin and Trident."
That's also one reason why there's no other place like One Vendue Range in Charleston.