Print Local Weather Golf Courses
SkySail Luxury Condos: New Bern, NC
IT-S THE BEST OF BOTH WORLDS: a home with a resort atmosphere.
SkySail luxury condominiums offer contemporary living on the water in the heart of historic downtown New Bern, where residents can enjoy upscale marina living within walking distance of the uniquely charming downtown area.
Overlooking vistas on the Trent and Neuse Rivers, this premier property makes "Live your day dream" more than just a motto-it makes it a reality. SkySail is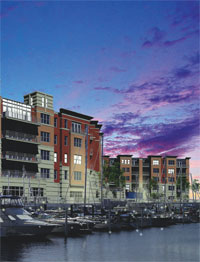 being built on the same reputation of luxury and distinction as the neighboring Sheraton Hotel and the exclusive SkySail Yacht Club and Marina, both creations of Soleil Group, one of the Southeast-s premier developers.
Soleil Group representatives say the development of the condominium community on this property takes advantage of the pristine marina surroundings. They have spared no attention to detail, offering many of the same amenities available to hotel guests, including valet parking, room service and laundry.
But it-s not just those amenities that are drawing people to be a part of SkySail. The building itself is a stunning testament to Soleil Group-scommitment to excellence.
A grand lobby will welcome visitors to the five-story brick contemporary building. With more than 30 different floor plans, SkySail-s 121 units range in size from 761 square feet to 1,800 square feet. Distinctive features include high ceilings, hardwood floors and imported tile, with modern kitchens including granite counter tops and solid wood cabinetry.
"There is something for everyone here," says agent Judy Hollister, who adds that location, location and location-concerning the water-seems to be the biggest draw.
"Boating is phenomenal here because of the protected waterways," she says. "We have kayaking, wake boarding, fishing, tubing and all sorts of other activities."
Condo owners will have access to the marina and will be able to purchase slips to house their vessels. SkySail Yacht Club is considered one of the best marinas
in the area, with its deep-water slips, wireless Internet, high-speed fueling and more.
For those spending their time on land, the SkySail condominium community offers a large pool deck and an outdoor Jacuzzi. Inside, it will boast a large fitness room with state-of-the-art cardiovascular equipment.
Prices for this stunning property start as low as $199,000. More than 80 percent of Skysail-s homes have already been reserved. Construction is due to begin this spring, with occupancy scheduled for the fall of 2007.