Print Local Weather Golf Courses
The Shores at Spooners Creek: Morehead City, North Carolina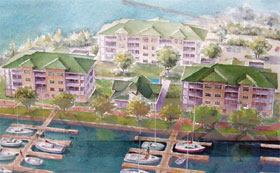 RESIDENTS OF THE SHORES AT Spooners Creek will enjoy magnificent water views, a wide array of wildlife and proximity to one of North Carolina-s historic cities.
Located on the Intracoastal Waterway in Morehead City, The Shores at Spooners Creek is a new premier coastal community that offers breathtaking views of the beautiful Bogue Sound. Snowy white egrets and elegant blue herons are among the creatures who make their homes in the lush, vibrant marshes that dot the community. The private, gated, soundfront neighborhood includes home sites, luxury condominiums and a full-service marina, each offering its own unique look at the bounty of Mother Nature.
Two floor plans, ranging from 1,765 square feet to 1,925 square feet, will be offered at the condominium complex. All units include three bedrooms and a waterfront balcony or wraparound deck.
The Spooners Creek Marina, located in a harbor protected by land on all sides, includes more than 80 boat slips, new state-of-the-art floating docks and a limited number of boat lifts. Utilities such as water and electric power will be available for all slips, while diesel fuel will be offered for slips 40 feet and longer.
Other important amenities include a community clubhouse, swimming pool, covered parking and underground utilities.
Morehead City, located on the opposite bank of the Newport River from Beaufort, owes its rich maritime history to the fact that it is one of North Carolina-s few deep-water ports. The city is home to the Institute of Marine Sciences, the North Carolina Division of Marine Fisheries and the Ferry Division of the North Carolina Department of Transportation.
For more information about The Shores at Spooners Creek, call (252) 726-2060 or visit www.ShoresAtSpoonersCreek.com.