Print Local Weather Golf Courses
Pelican Watch: Oak Island, NC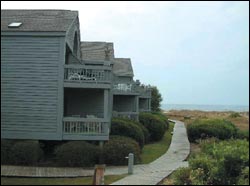 ITS SLEEPY ATMOSPHERE DATES back to the 1800s; now Oak Island is resurrecting its smalltown atmosphere with its newest downtown development: Pelican Watch. This attractive, upscale, mixed-use offering is being designed to bring back to life the feel of an old-fashioned downtown area. Located right on Oak Island-s main drive, Pelican Watch will be mixed units, with business offices located below and two-story residential units above.
The spacious homes appeal to those who want the convenience of the location, as well as the draw of the development itself. Each 1,600-square-foot unit will have three bedrooms and three baths, with numerous amenities.
Welcoming features include a half moon shaped balcony, where homeowners can take in views of the ocean or watch the lazy street life below. Inside, residents will enjoy open floor plans with ceramic tile, crown molding, tray ceilings, maple custom cabinets and Berber carpet. Private off street parking will also be available to each unit.
Just five blocks from the beach, this is one of the most desirable locations on the island.
Pelican Watch is an exclusive offering. In total, it will include just nine residential units. Construction will begin soon on the
first of two phases. Phase One will have three homes and just two commercial units. Phase Two will follow with another six homes and four commercial units. Pre-construction prices begin in the low $400,000 range, with prices expected to rise quickly.
For information about Pelican Watch: Oak Island, NC and the surrounding area contact June Vess of Sand Castle Realty
5200 East Oak Island Drive
Oak Island, NC 28465
Phone: (910) 278-9521
Email Me: junesbeach17@hotmail.com