Print Local Weather Golf Courses
Morgan Creek Landings: Morehead City, North Carolina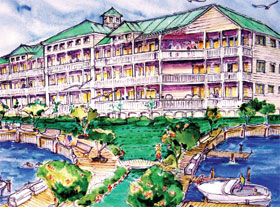 SLOW DOWN, RELAX AND UNWIND on your own private waterfront balcony. Wake up each morning to spectacular sunrises and the soothing sights and sounds of boats lazily drifting in and out of view. As the day progresses, watch the wild horses grazing on the beautiful terrain of Carrot Island or the dolphins playing in the water below. Drink in the magnificent sight of the sun setting slowly but surely across the sparkling water each afternoon. As the day fades away and the sky darkens, find comfort in the warm and constant glow of the Cape Lookout Lighthouse.
All this and more can be yours at Morgan Creek Landings, a private waterfront community located between the historic towns of Beaufort and Morehead City in North Carolina. This new neighborhood was created for those who seek a slow, quiet pace, surrounded by calming water, incredible wildlife and a soothing atmosphere.
But Morgan Creek Landings was also designed for those who love to spend time on the water. Each condominium will include a 35-foot boat slip and lift, and, with the Atlantic Ocean and Beaufort Inlet, the passageway to the famous Big Rock fishing grounds, less than a mile away, Morgan Creek Landings is truly a fisherman-s dream.
Morgan Creek Landings will consist of 30 luxurious waterfront condominiums. Four different models are available, ranging from 1,632 square feet to 2,063 square feet. The distinctive features in each unit will include cultured marble vanity tops and ceramic tile bathrooms and kitchens. Covered parking will be available, as will additional exterior storage.
Morgan Creek Landings will offer a unique lifestyle for those who love all Mother Nature has to offer along the North Carolina coast.
For more information, call (252) 726-2060 or visit www.MorganCreekLandings.com.