Print Local Weather Golf Courses
The Historic Fowle at 189 W. Main Street Washington, North Carolina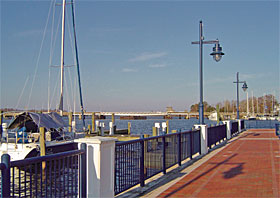 WASHINGTON-S ROOTS ARE rich in history. Located at the intersection of the Tar and Pamlico rivers, in the heart of North Carolina-s Inner Banks, the town has earned its spot on the National Register of Historic Places.
Washington-s Main Street embodies 19th and 20th century America, its homes and commercial buildings dripping with elaborate Victorian architecture. A leisurely walk through the neighborhood provides the opportunity to step back in time and imagine what it would have been like to live during that era.
While striving to do justice to its motto, "Pride in the past, faith in the future," Washington has embarked on a major renovation project that will restore its rich history while at the same time embrace modern amenities. The Historic Fowle, located at 189 West Main St., is a shining example of this effort to meld past with present, with an eye toward the future.
The Historic Fowle is a oneof- a-kind project. Designed by Clearscapes, known for its extensive experience in historical restorations, the building is being renovated to restore its place as an architectural gem of Washington-s Historic District, with today-s comforts and conveniences.
When the work is completed, the Historic Fowle will house luxury condominiums with secured access. Its ties to the 19th century will be evident inside and out. Each condominium will include oversized windows, vintage hardwood floors and exposed brick, all reflecting its Victorian past.
Two- and three-bedroom condos will start at $380,000. The first floor of the building will be limited to two river-view units and retail space. The second and third floors will consist of three residential units, with two penthouses on the fourth floor. Seven unique, loft-style plans will be available.
Features such as luxurious finishes, granite counter tops, open floor plans, tin ceiling accents and professional-grade appliances will be included in every unit. Each home will feature at least one balcony, providing magnificent views of the riverfront and downtown Washington. Residents will be able to relax and watch the sailboats pass by and the sun sink slowly into the horizon, then take a short stroll downtown to shop or enjoy a meal.
The Historic Fowle offers the opportunity to own a piece of history while enjoying the lifestyle of waterfront living. For more information, contact Prudential Clear Water Realty at (252) 946-5055 or visit www.PruCWRWash.com.
For information about The Historic Fowle at 189 W. Main Street Washington, North Carolina and the surrounding area contact Jeff Passot of Prudential Clear Water Realty
Phone: 252-633-2059
Visit my site: http://www.prudentialnc.com/
Email Me: jeffpassot@aol.com