Print Local Weather Golf Courses
Harbour View at Fairfield Harbour: New Bern, North Carolina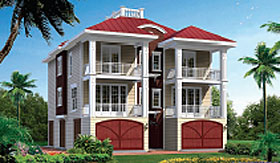 CAREFREE WATERFRONT LIVING in a well-established community describes Harbour View, Prudential Clear Water Realty-s newest project, perfectly.
Harbour View is located in New Bern, North Carolina, which, with its small-town charm, historic character and waterfront properties, has something for everyone. Whether you-re ready to retire, looking for a second or vacation home or trying to decide where to buy your first house, New Bern deserves your attention.
Harbour View will be a luxurious waterfront condominium complex consisting of 74 twostory duplex units, each with a two-car garage underneath. The 1,300-square-foot units will have a bedroom, a bathroom, a full kitchen and a spacious living area adjacent to a waterfront balcony on the first floor. The second floor will include the master bedroom, along with a private balcony, a guest room and two more bathrooms.
The exterior of each unit will feature cedar-chip siding and a tin roof. Details such as curved archways above the entranceway and garage and wrought iron fencing around the balconies give these condominiums a unique look. Each duplex will be topped by a widow-s walk.
Since Harbour View will be located within the lively community of Fairfield Harbour, its residents will have access to a marina with more than 250 boat slips, a park, a community center, a pool, a fire station, two golf courses, a library and a recreation center. They also will have the opportunity to join more than 40 different organizations. If all that doesn-t keep them busy, downtown New Bern is only a few miles away by car or boat.
New Bern, located in historic Craven County at the convergence of the Trent and Neuse rivers, is the second oldest town in North Carolina. With more than 150 historic landmarks, there-s much to see, including the Tryon Palace—built in 1770 as the home of British Royal Governor William Tryon and later restored—the birthplace of Pepsi, The Firemen-s Museum, Bank of the Arts and the 157,000-acre Croatan National Forest.
Pricing for Harbour View will begin at $295,000, a great opportunity since most waterfront condominiums in New Bern are selling for more than $400,000.
For more information on Harbour View at Fairfield Harbour, contact Prudential Clear Water Realty at (877) 638-5063 .
For information about Harbour View at Fairfield Harbour: New Bern, North Carolina and the surrounding area contact Jeff Passot of Prudential Clear Water Realty
Phone: 252-633-2059
Visit my site: http://www.prudentialnc.com/
Email Me: jeffpassot@aol.com