Print Local Weather Golf Courses
Grande Meridian Resort: Surf City/Topsail Island, NC
A LOCAL FAMILY-S VISION OF A unique resort community is about to become reality on Topsail Island.
Grande Meridian Resort, located in the heart of the seaside village of Surf City, North Carolina, offers a lifestyle marked by distinctive amenities and a connection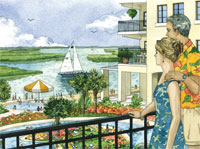 to the area-s maritime tradition. Inspired by the island-s coastal lifestyle, this groundbreaking resort community of 62 luxury waterfront condominiums is the creation of the Yow family, whose influence and commitment to North Carolina-s southern coast has endured since the mid-1900s.
"One look and you will see that Grande Meridian Resort is more than just another condominium project," says developer Mark Yow. "It-s the fulfillment of a dream, a legacy realized by our family, which has called Topsail Island home for generations."
"Grande Meridian Resort is heavily influenced by the region-s nautical history, and the story of the wind rose and the classical winds was a particular inspiration for the project," he adds. "From the logo design and building architecture to the names used to identify different parts of the development, the ancient maritime influence serves as the heart and soul of the project."
Everything Surf City has to offer is within walking distance of Grand Meridian, and the picturesque port city of Wilmington is just a 30-minute drive south.
Situated on more than five waterfront acres overlooking the Intracoastal Waterway, the development features a state of- the-art health club and spa, a pool, a lazy river and a fully equipped fitness center. The main floor of the resort includes a restaurant offering dining at the water-s edge; residents also have the option to explore the diverse menus and hometown flavor served up by local eateries.
Grande Meridian-s private, 5,000-square-foot ocean-front beach club is only two blocks from the lobby, but residents can choose to take advantage of a beach shuttle. The complex includes a full-service marina with boat storage.
The developer has considered every detail in designing Grande Meridian-s homes. Each offers a private terrace with spectacular water views, along with the
highest quality finishes, appointments and appliances. Custom interior design and complete furnishing packages are available. Units range from 1,600 square
feet to more than 4,000 square feet, with prices starting around $800,000.
"The pace of life is different here," Yow says. "With waterside dining, boating, the private beach club and the unique charm of the local community, you-ll discover a place where you immediately feel at ease."
Special pre-construction pricing is available. For more information on Grande Meridian Resort, visit www.GrandeMeridian.com/discover or contact Lee Crouch or Sandy Ledbetter with Intracoastal Realty at (910) 509-7019 or (800) 341-6647.