Print Local Weather Golf Courses
Fairfield Harbour: New Bern, NC
IMAGINE YOUR MORNING STARTS like this: You step off your boat, hop in your golf cart and ride out to the the first hole for a day of golf. After playing 18 (under par, of course), you come back for a workout at the fitness center, then cool off with a dip in the pool. You come home to relax on your balcony with a
cool, refreshing mint julep while watching 50-foot sailboats glide by.
The best part is that you haven-t had to drive your car once the entire day-everything is just steps away from your front porch.
At Fairfield Harbour, this type of resort living is an everyday occurrence. The planned community, located nearly eight miles east of New Bern on the banks of the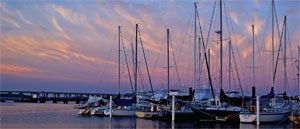 Neuse River, features indoor and outdoor swimming pools, tennis courts, several golf courses, walking and riding paths, a restaurant, fitness center and marina. While Fairfield Harbour is just minutes from New Bern by car, residents can also choose to cruise down the river by boat to enjoy a meal at one of the city-s waterfront restaurants.
Surprisingly, property in this setting is well within reach for retirees or vacation home buyers. At Marina Townes, a new condominium development in Fairfield Harbour, prices for a three-bedroom, three-bath unit are in low $300,000s.
"Waterfront in New Bern at this price is hard to find with these amenities," says Vince Coletta, vice president of sales for Prudential Clear Water Realty, the agency managing the sales for Marina Townes.
Each of the 20 units in the Marina Townes development is about 1,250 square feet, with two floors of heated space and private parking and storage underneath. Private decks off the living room and main bedroom provide excellent views of the river. One popular feature is a crow-s nest fronting each condo. A homeowner can enjoy the weather and the view on the first floor, consume a quiet breakfast just off the bedroom or sip a peaceful afternoon drink in the crow-s nest.
The interiors are as comfortable and aesthetically pleasing as the view outside. Details include hardwood floors, granite counter tops, beaded board bathroom walls, Nantucket beaded board cabinets throughout, chair rails, crown molding and wainscoting in the formal areas and Italian travertine marble floors in the bathrooms.
New Bern is a historic waterfront community on the banks of the Neuse and Trent Rivers, about halfway up North Carolina-s coastline and within easy boating of Pamlico Sound. New Bern is only 35 miles along a four-lane highway from North Carolina-s Crystal Coast.
Once a major shipping port, the area now serves as the focus of water activities such as boating, sailing and fishing. The city-s revived and renovated downtown area includes art galleries, specialty shops, antiques stores and fantastic restaurants such as the Chelsea and Captain Ratty-s. The town hosts many events, among them the annual Shakespeare Festival, the Sunday Jazz Concert and MUMfest, a multifaceted, family oriented entertainment event. Beautiful public and private gardens dot the city and its suburbs.
For more information about Marina Townes, Prudential Clear Water Realty at:
(877) 638-5063
The company Web site, www.prucwr.com, offers a wealth of information on the New Bern area, as well as information about Marina Townes and Fairfield Harbour.