Print Local Weather Golf Courses
Charter Landing: Carolina Beach, North Carolina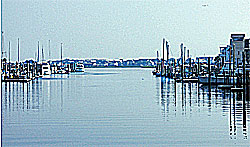 THE LATEST OFFERING BY Wilmington-based Rockford Partners, Charter Landing, promises fantastic views and ocean breezes from a custom-built condominium property. Situated between the canal and the Atlantic Ocean in Carolina Beach, North Carolina, Charter Landing is just steps from the beach and docks and convenient to the best the boardwalk has to offer. The 11-unit gated complex has many of the advantages offered by high-rise condominium mega-structures, such as covered parking with two spaces per unit, lush tropical landscaping, an oasis-style pool complete with waterfall, grilling stations, recreation areas, an elevator and storage areas.
Owners will also be treated to a secluded 1,300-square-foot rooftop deck, complete with patio furniture and an entertainment area; it-s perfect for sunning during the day or sipping a glass of wine under a moonlit sky.
James Yopp, Wilmington native and owner of Rockford Partners, has been building custom homes and commercial property since 1992 and says the complex is designed in a Hemingway style, with deep natural tones that complement the natural setting.
The 11 single-story units of Charter Landing will range from 1,000 to 2,100 square feet, with two bedrooms and two or two-and-a-half bathrooms. Three penthouses will be available. Most condos will have an additional room that can be used as a media room or a home office; nine will have private balconies with stamped concrete floors. Each home features all of the living space on one floor and spectacular views of the canal and the ocean. The open and airy floor plans include 10-foot ceilings, hardwood floors, standard granite counters with tiled back splashes in the kitchen and extensive crown molding and wainscoting throughout.
Each home is pre-wired for surround-sound, security systems and high-speed Internet. They also feature charging stations as a central place to store and recharge cell phones, PDAs and laptops, which also provide a nice place to hang your hat or store your briefcase. Most units feature a wet bar, and each residence comes with all appliances, including washers and dryers. For a limited time, a $25,000 allowance may be used to discount the purchase price or as a furnishing allowance.
Charter Landing condos start from the $300,000s and are marketed by Josh Ryan of Rockford Partners. During the construction process, buyers can customize their unit by choosing colors, cabinets, hardwood, carpet and furnishings.
For information about Charter Landing: Carolina Beach, North Carolina and the surrounding area contact Josh Ryan of Rockford Partners
po box 1019
Wilmington, NC 28402
Phone: (877) 761-ROCK
Email Me: info@rockfordpartners.net