Print Local Weather Golf Courses
Bee Street Lofts, Charleston, SC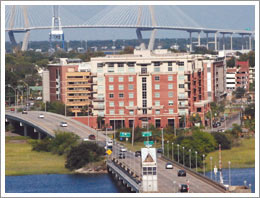 The view from unit 603 in the Bee Street Lofts is amazing. A corner loft, it has a wraparound balcony, and, from that vantage point, you can see not only downtown Charleston but the Ashley River, Lockwood Boulevard and even a glimpse of the Arthur Ravenel Bridge.
"It's a beautiful view. Look around," said Josephine Traina Gleason as she pointed out Charleston landmarks.
And if the view is not enough to sell you on the location, the lofts themselves will close the deal. The building is a stylish modern fortress constructed of poured concrete and thick glass designed to withstand hurricanes and other forces of nature. Inside are 108 lofts laid out in 11 different configurations.
Even the smallest loft, dubbed the "Metro," is a comfortable size for a single person or a couple. The two-bedroom "Ariel" and the three-bedroom "Panaroma" plans are spacious at a little over 2,000 square feet.
Thinking of Retiring in SC?
FREE List of South Carolina Retirement Communities
---
The modern interiors are designed to appeal to young professionals. High ceilings offer the optical illusion of additional space and the stained concrete floors have an urban edge that invites creativity in decorating. Kitchens are far beyond basic, with high-grade stainless-steel appliances and granite countertops.
Josephine, a broker with Daniel Ravenel Sotheby's International Realty, is sold on the Bee Street Lofts. Literally. Not only is she the exclusive broker for the building, she is a resident and planning to move to a larger unit soon.
"I live here," she explained. "I want people to see it as the kind of building they want to live in for a long time."
Because of its close proximity to the Medical University of South Carolina, Roper Hospital and even the College of Charleston, Josephine said many physicians and residents have already found the Bee Street Lofts to be the ideal place to live. As an advocate for medical professionals, she is able to offer incentives.
"I can offer 100-percent financing for physicians and residents," Josephine said, adding that a 4-percent finance rate is available to other qualified buyers.
As a resident, Josephine found the location to be exceptional.
"The most desirable zip code in this area is 29401, and the Bee Street Lofts are at the edge yet still a part of the historic district," she pointed out.