Print Local Weather Golf Courses
Racquet Club Villas Wild Dunes/Isle of Palms, SC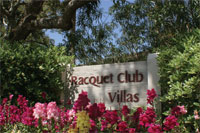 MOST PEOPLE ONLY DREAM OF island living, but dreams do come true at Wild Dunes. For example, consider Racquet Club Villas, the perfect solution for year-round living.
Surrounded by oaks and pines, Racquet Club Villas are designed so each unit overlooks Palmetto Lake. The attractive stucco and rough-sawn wood exteriors blend into the natural beauty of the island. Each Racquet Club villa features screened porches or sundecks so residents can enjoy beautiful views in the privacy of their own homes.
The villas are all constructed with double-stud common walls with fiberglass insulation and two layers of sound-deadening board, separated by air, for maximum
privacy between homes. In addition, each unit features double-pane insulated windows throughout, along with fully insulated floors, walls and ceilings.
These town house villas offer two spacious three-bedroom, three-bath floor plans, as well as a two-bedroom, two-bathroom layout. Three-bedroom units include
hideaway attic stairs and a wet bar. A garage and ample storage space are on the ground level.
Racquet Club Villas are located inside Wild Dunes, a gated community that features all the amenities you could possibly want. If golf is your passion, there
are two Tom Fazio courses with outstanding marsh and ocean views. There are biking and hiking paths and great fishing spots. And Wild Dunes offers water sports including kayaking, swimming and boating. For pure relaxation, you can enjoy beautiful sunsets or a stroll on the beach.