Print Local Weather Golf Courses
Benefits of Fractional Ownership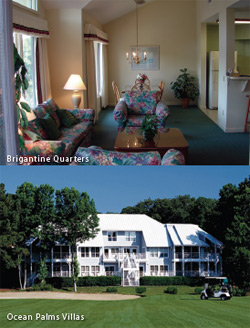 Fractional ownership has been around for quite some time, but it might be a relatively new term to many people. Popular in many resort destinations across the country and with an increased awareness overseas, fractional ownership is a middle-ground solution to second-home ownership. It falls between whole ownership, where the individual owner has sole responsibility and exclusive use of the property, and time sharing, where more often than not you purchase vacation time in a resort and not the real estate itself. While time shares tend to lose their value quickly, fractionals follow the market trend of appreciation with the property values around them.
How does it work?
Fractional ownership is "the division of any asset into portions or shares." If the asset is real estate, for example, the deed can be legally divided among multiple owners. Like any other real estate, these assets are taxable, represent equity and offer ownership benefits such as interest deductions, depreciation and rental income. The major benefit, of course, is that costs are shared among multiple owners.
Different developments and properties have a variety of options. Fractional ownerships can vary from a one-thirteenth, where owners use the property for up to four weeks a year, to the most popular, quarter ownership, where they use the property 13 weeks a year. Usage is more often then not laid out in a set schedule that rotates each year so owners are assigned different times, holidays and seasons.
Benefits
The primary reason fractional ownerships are popular among buyers, even those who could afford to purchase a whole-ownership property, is that the expense, responsibility and maintenance of ownership is reduced. The average family takes 21 to 28 days of vacation per year, so your vacation home will not be sitting around unused for 48 weeks out of the year as it would if you owned the property outright. At the same time, you have a fee simple estate interest in real estate, so you can pass the deed down to family members or resell it through a broker.
Most fractional developments are located in high-end resort locations, such as Hilton Head Island, South Carolina, with easy access to golf, tennis and, of course, the ocean. These developments are often associated with a management company that will oversee the upkeep of the property, as well as handle vacation rentals. This offers secondary income to owners, which can help offset the annual maintenance costs. Finally, most of these properties are affiliated with a global exchange company such as Resorts Condominium International, which lets owners travel elsewhere for vacations by exchanging unused weeks at the property they own.
Fractional Ownership and Hilton Head Island
Seeing the need for a middle-ground real estate opportunity, Russell Brown, chief executive officer of RBC Enterprises, Inc. on Hilton Head Island, helped fine-tune the idea of fractionalizing condominiums. It was on Hilton Head in 1984 that Brown and his company sold the first condominium development in the country as fractional ownership. Brigantine Quarters is located in Shipyard Plantation, a gated resort community. A quarter-ownership development, Brigantine Quarters has 48 two- and three-bedroom upscale condominiums with on-site amenities including tennis courts, swimming pools, playgrounds and picnic areas-just a two-block walk to the Atlantic Ocean.
RBC Enterprises has been marketing, selling and developing real estate properties for more than 25 years. Since 1983, the company has sold more than $1 billion in properties in 10 states and the Washington, D.C., area. These properties include time-share developments, fractional-ownership and whole-ownership properties, and RBC also maintains an active resales division.
"When it comes to resort development, especially in fractional ownership of real estate, Russ Brown is the leading source of knowledge for this industry," says Bruce Tuttle, a real estate sales executive with RBC and a 29-year resident of Hilton Head Island. "When a developer in another area of the country is looking for consultation and expertise in this area, Russ is the first one they call."
Evolution of Fractional Ownership on Hilton Head Island
As time went on, the needs of the typical fractional homeowner changed, and there was a need for added amenities to the standard package. People wanted more than just a vacation property in a resort location. RBC Enterprises answered the call in the 1990s with Ocean Palms Villas in Port Royal Plantation on Hilton Head. This 96-unit development has designer-furnished two- and three-bedroom condominiums and townhomes with an upgraded interior that includes duel master suites and Jacuzzi tubs. Tied in with the ownership package is a golf and tennis membership at the Port Royal Resort facilities, as well as a management agreement with The Westin Resort & Hotel. Thus, the owners have full use of all the Westin-s amenities, including an indoor pool, a spa, a fitness center, a shuttle bus that runs through the property four times an hour and cart-fee-only rates at the golf club.
"We have found that the most popular owner usage is with the rotating schedule," says Tuttle, who assists in owner resales at Ocean Palms, where each owner has five two-week intervals spread out over the year. The schedule rotates each year so after five years, each owner has had the property for all 50 usable weeks. The first two weeks each year are set aside for maintenance and upgrades." To view the schedule, visit www.rbcenterprises.com and click on the Ocean Palms link.
The Oceanfront Residence Club: fractional ownership for the 21st century
Once again, RBC Enterprises has stepped to the forefront and answered the call of the discerning vacation homeowner, elevating the vacation experience to another level. Once again, the accommodations are first-rate, with designer furnishings, upscale fixtures, stainless steel appliances, granite countertops and Jacuzzi tubs. A golf and tennis package is in place at a world-class resort location. Another level? How about oceanfront! How about a club concierge service to handle all of your needs! Deep sea fishing? Horseback riding? Restaurant reservations? Having your beach cottage stocked for your arrival? It can all be taken care of for you. How about your own exclusive island situated between Hilton Head and Savannah, Georgia? What you now have is The Oceanfront Residence Club on Daufuskie Island, South Carolina.
"Now you have a discriminating vacation homeowner who wants a little pampering, and this is what you have with The Oceanfront Residence Club," says Tuttle. "When you have this type of product that is affiliated with The Daufuskie Island Resort & Breath Spa, which Conde Nast Traveler Magazine rates as one of the top resort destinations in the country, you have entered a brand new era in fractional ownership properties."
To add to the exclusivity of this property, Daufuskie Island is accessible only by boat, and there is regularly scheduled ferry service daily from Hilton Head and Savannah.
| | |
| --- | --- |
| For information about Benefits of Fractional Ownership and the surrounding area contact Bruce Tuttle | |