Print Local Weather Golf Courses
Oceanfront Living Myrtle Beach, South Carolina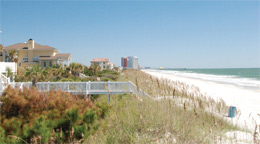 No doubt some of your fondest childhood memories are of family vacations at the beach. This is the reason we keep coming back. The Myrtle Beach area is the perfect place to relax and soak up the sun to the soothing sounds of the ocean. Many people enjoy the beach so much they decide to purchase a vacation or second home or plan to relocate to the area.
Jerry Pinkas didn-t become one of the most successful Realtors in one of the East coast-s hottest markets by taking it easy. Whether prices are soaring or retreating, successfully selling properties at the beach is the result of hard work and utilizing a variety of marketing tools, says Pinkas. Loving what you do for a living doesn-t hurt, either.
To maintain "the best on the beach," Pinkas recently expanded his team to include Rob Greco and Barb Dwulet. This highly experienced group has the knowledge, negotiation skills and experience to handle any real estate, be it oceanfront, resort properties, vacation homes, condos, land, new construction or existing home sales. They are the best of the best. We caught up with Pinkas recently and asked him to share some insight on the Myrtle Beach market.
Associate Editor - What-s in store for the real estate market in Myrtle Beach and elsewhere along the Southeast coast?
Jerry Pinkas - The lure of the beach and the ocean won-t go away. Take a look at just about every retirement brochure. The beach and the ocean are on nearly every cover. We-re drawn to the water.
Myrtle Beach offers a lot for your money. Real estate is more expensive in other East coast towns. You should consider what you can buy for your money today and what it will be worth in 10 years. We-re still in a growth mode here. Other beach towns are older and are built out, but we-re still in our infancy compared to other communities.
A.E. - What else makes the Myrtle Beach market different from other markets?
J.P. - In addition to getting a lot for your money, we have a great lifestyle. We have more than 100 golf courses, 1,700 restaurants, live theater and many other entertainment opportunities. There are a thousand things to do, or you can just relax and do nothing. Today is a fantastic time to buy. The deal of the century happens about once a week. It-s all about negotiating and finding a motivated seller.
A.E. - What are the most important traits a Realtor must have to be successful, in Myrtle Beach and elsewhere?
J.P. - Real estate is all about helping people. It-s what I like to do and what makes me successful. I focus on my clients- needs and get them everything they are asking for. They will tell everyone what a great job I did and that is what it-s all about.
For information about Oceanfront Living Myrtle Beach, South Carolina and the surrounding area contact Jerry Pinkas of EXIT Grand Strand Properties
4600 Oleander Drive
Myrtle Beach, SC 29577
Phone: 843-222-1926
Email Me: myrtlebeachsales@aol.com