Print Local Weather Golf Courses
The Market Common : Myrtle Beach, South Carolina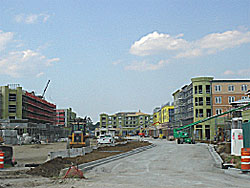 MIX SMALL-TOWN CONVENIENCE with big-city atmosphere, add magnificent town home designs with tree-lined boulevards and 600,000 square feet of retail space, including Williams-Sonoma and Tommy Bahama Tropical Café, and you have The Market Common.
Ideally located within a mile of the sparkling blue Atlantic Ocean and two miles from an ocean-front state park, The Market Common is a highly anticipated, multi-million-dollar project underway in Myrtle Beach, South Carolina. Scheduled to open in the spring of 2008, the town homes will be completed before Thanksgiving 2007.
The Market Common brings new urbanism to the popular resort area and reinvents the way people live in Myrtle Beach by putting town homes within walking distance of verything-from the grocery store and bookstore to the movie theater and soccer fields.
Developed by Dock Street Communities, The Market Common is 123 acres on the former Myrtle Beach Air Force Base, which closed in 1993.
The residential-commercial-recreational community "appeals to all segments of the market," says David Wilkes, vice president of Dock Street Communities.
"For seniors, The Market Common features the town structure of the community they grew up in, and for younger folks it is the hip, urban atmosphere they want," says Wilkes.
What man wouldn-t be thrilled with having his home and office around the corner from an Orvis Sporting Traditions store, across the block from Claddagh Irish Pub and just down the street from a dog park? Women are excited about living within walking distance of Pottery Barn, Coldwater Creek, luxurious boutiques and salons. And outdoor enthusiasts will appreciate all the green space.
There are three town home styles and eight floor plans from which to choose, each with two or three bedrooms and a one- or two-car garage. The Classic Rowhomes are three stories with an attached garage that is accessed from a rear lane. Carriage Townhomes are two stories of old-style tumbled brick where a private, fenced courtyard separates the home from a detached garage.
The Live/Work Townhomes are adjacent to the shopping and dining mecca of The Market Common Town Center and boast three levels. The ground floor is a 600- to 820-square-foot commercial space with a half-bath. Entrepreneurs appreciate the opportunity to locate their shop or office in an urban village that will be a natural attraction for consumers, Wilkes points out, whether owners choose to live above their business or rent the living space to others.
Wilkes adds that The Market Common is "a model of growth that is smart." It-s a mixed-use concept where homes, workplaces, stores and recreational areas are combined. It just might be the perfect recipe for living, working, dining, shopping and entertaining.