Penthouses : Vsion Condominiums, Columbia, South Carolina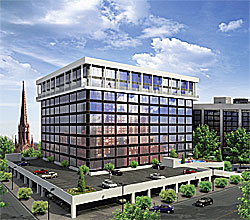 PUSHING "UPTOWN Living Downtown," Vsion (pronounced Vision) Condominiums is currently in phase I on the corner of Lady and Marion streets in Columbia, South Carolina.
According to Liane Baly of Crescendo Advertising, "Vsion is strategically located to accommodate the walk-to-work and walk-to-play consumer who wants to enjoy a lifestyle of luxury."
Residents will soon be able to enjoy the New Garden District, a nearby 21-block restoration project that will feature a century of landscaping, from 1820 to 1920.
Vsion has 14 penthouses, ranging from a one-bedroom, 972-square-foot unit to a three-bedroom, 2,226-square-foot version. Some phase I units have been pre-sold, but the remaining are priced from $369,500 to $757,900. Prices are expected to increase with each phase.
Residents of Vsion will enjoy "some of the most elaborate and extensive amenities imaginable," including a pool, sun terrace, concierge service, guest suite, fitness suite, on-site parking, clubhouse, inside doorman, granite counter tops and stainless steel appliances.
The Vsion Condominiums are a short walk from area office buildings, the state Capitol, the campus of the University of South Carolina and numerous cultural destinations and city parks.