Penthouses : 18 Broad Street, Charleston, South Carolina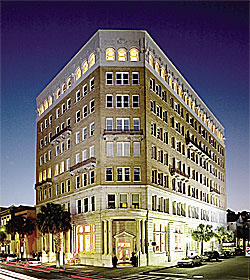 IMAGINE LIVING IN YOUR very own sanctuary in the heart of Charleston, South Carolina, but stepping out your front door into modern urban life. Many believe that "anyone who really likes to be in the center of things" would appreciate the penthouse at 18 Broad St. Designed by Victor Frohling in 1911, it recently was restored. Though it is now a luxurious 21st-century "smart house," it has maintained its historic standing in downtown Charleston.
Under current restrictions, Charleston residential buildings cannot exceed four stories, but 18 Broad has eight floors, with a 3,177-square-foot penthouse on the fifth.
"Being on this floor gives you a whole bird-s-eye view of the city because everything else is much lower," says Jennifer, adding that along with views of the entire historic district, you can see water from every room of the penthouse.
The residence has a security system based on fingerprint recognition and Lutron blinds controlled by touch screens. Other features include ebony-stained planked flooring, a marble fireplace, mahogany bookcases and a custom-built entertainment system wired for broadband Internet, Surround Sound and a flat-screen television. The bathrooms feature Oceanside Glasstile and Carrera marble vanities. The kitchen has custom cabinets by JMO Woodworks, a 36-inch Wolf range and a Sub-zero refrigerator with a glass door.