Print Local Weather Golf Courses
About Myrtle Beach Locator Map
Pink House Square: Myrtle Beach, SC
Located just a block from the majestic Atlantic Ocean, the Pink House Square Condominiums offer the kind of luxurious living you might think exists only in dreams. But get ready to be amazed, because this is no dream, it-s a reality.
This exquisite property, situated at 43rd Avenue North and U.S. 17 in Myrtle Beach, offers three bedroom, three-and-a-half bath homes with 9-foot ceilings, solid wood doors, custom wet bars, custom hardwood flooring, Viking Range stainless steel professional-series kitchens, daily concierge service, and a pool with a waterfall and whirlpool area. Four floor plans are available.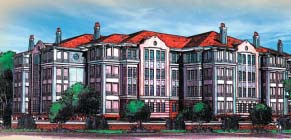 Bedrooms include beautifully appointed full private baths with custom vanities and stone countertops. Master baths feature a linen storage closet, private water-closet and bidet, custom-made double vanity cabinets, marble surround (including ceiling) double-spout shower with built-in seating, and a separate marble surround garden tub. Forty two inch gas fireplaces with custom stone mantles and surrounds are located in the living room and master bedroom of every residence.
Pink House Square Condominiums- development partners have been principals in a myriad of resort real estate development projects since 1975, developing communities in the Carolinas, Virginia, Georgia and Florida. Retail centers, hotels, golf courses, minigolf courses, residential subdivisions, single-family and multi-family homes, oceanfront, marshfront and Intracoastal Waterway condominiums — no doubt about it, they know resort real estate.
Pink House Square condominiums represents the very finest in year-round resort living. The development is not a "rental" investment — it-s an investment in rewarding your own success. We think you-ve earned it.